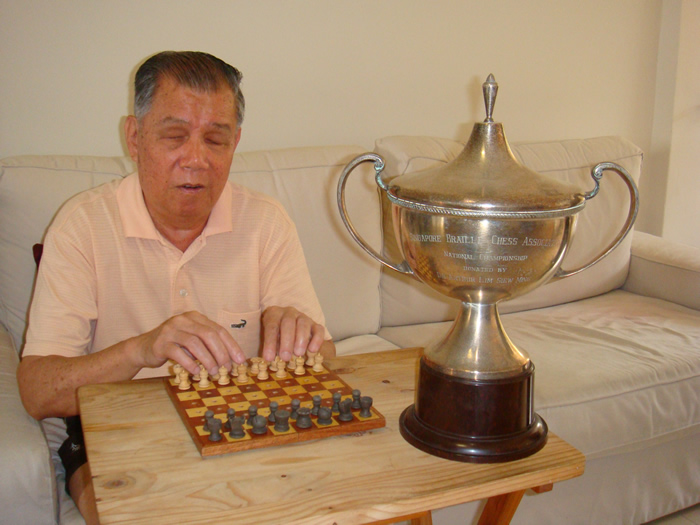 Ngiam Quek Bee is a man of many talents and a person with an inquiring mind. His skills in cane work are well known in Singapore. He plays chess competitively. He learnt Chinese Braille on his own. Although retired, he is still earning an income selling lottery tickets.
Before his retirement, Quek Bee was a brilliant cane product worker and instructor. Between 1963 and 2000, he was an instructor in cane work at the SAVH Vocational Training Department. He was able to fashion baskets of different designs, cane furniture and other products.
He also trained many blind persons to make waste paper baskets for schools and offices, items that were in great demand in the 60's and 70's. Blind clients who were not mobile were able to weave baskets at home and earn a decent living. "All these, however, eventually gave way to plastic baskets that are cheaper and more durable," said Quek Bee.
He first came to the Association when he was 16 years old. After completing his basic education, he learnt cane work at the Gurney Training Centre in Kuala Lumpur. Upon completing his training two years later, he joined the then Industrial Training Centre as an assistant instructor and was promoted some years later.
Quek Bee is also a keen chess player. A grandmaster, Professor Lim Kok Ann, inspired and taught him to play chess. He learnt the moves of chess greats like Bobby Fischer and Garry Kasparov. He accredited himself well in community and national tournaments, taking on sighted chessmen. On one occasion, when his opponent saw that he was blind, the former conceded a walkover. The thought of losing to a blind chess player was too much for Quek Bee's opponent.
In the blind community, there are quite a number who are equally good at playing chess. Quek Bee plays chess with them via the phone without a chessboard. This is what most people marvel at – the blind chess players' ability to focus and visualize the chessboard in their mind.
During his early years at the Association, Quek Bee learnt Braille in English. This laid the foundation for him to explore Braille in another language. At a conference in 1975, he met some visually handicapped delegates from China. He requested their help to learn the Chinese Braille system. They sent him some lessons on tape and later, he was able to share this newly acquired knowledge with others.
Quek Bee single handedly brought up his two children who were not yet in their teens when his wife passed away. They have since grown up and are successful in their own careers.
He is enjoying his retirement and loves to share his life's story with those who are interested in the lives of the blind.