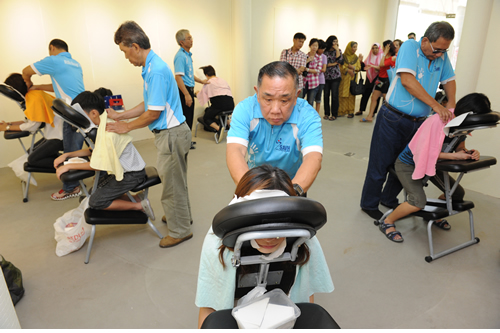 MOBILE MASSAGE TEAM (MMT) – HOW WE WORK
The Mobile Massage Team or MMT is an initiative by SAVH to facilitate the provision of massage services (Head & Shoulder Massage, Foot Reflexology and Full Body Non-Oil Massage) by a group of qualified, visually-handicapped masseurs at SAVH or external venues such as schools, corporate offices as well as at nationally organised events.
Over the years, MMT has grown in popularity, particularly with corporate organisations, hotels and resorts, government agencies and educational institutions, hospitals. We are glad to be continuously serving our regular and loyal customers and happy to be having more new customers and organisations and individuals engaging MMT for ad-hoc events.
MMT has gained higher visibility and prominence and the blind masseurs have proven themselves to possess the professional skills.
Chances of walk-in customers who could not be served by blind masseurs at SAVH has increased in recent years as more people are aware of the services provided by our professionally trained masseurs and the result of more deployment of masseurs to organisations which requested for external engagements.
As you support SAVH and this MMT initiative, you are also contributing your share towards a more inclusive society, as the blind masseurs put into practice the acquired skills to remain employable, earn their living, gain self-reliance and independence and live with dignity!

To help us serve you better, please advise us the number of participants for foot reflexology or head/shoulder massage respectively, in order for us to arrange for the appropriate number of masseurs to cater to your needs.
LOGISTIC REQUIREMENTS:
Chairs with lower backrest and without castors
Foot stools and other massage paraphernalia will be supplied by SAVH
MODE OF PAYMENT: Payment can be done either by cheque or bank transfer or PayNow.
By cheque: to be made payable to "Singapore Association of the Visually Handicapped" or "SAVH".
We do not accept cash. Please do not hand any cash to the masseurs.
The fees are collected on behalf of the masseurs.
TRANSPORT COSTS:
Transport cost will be incurred only when you require us to bring head/shoulder massage chairs to the external venue. It depends upon the distance covered between pick-up and drop-off locations and the real-time traffic conditions at the time of booking.
NOTE: One mini bus can only take 1 to 8 massage chairs together with the masseurs and other equipment. For events that require 1 to 3 chairs only, massage chairs will be transported by normal Taxi/Grab.
CANCELLATION CHARGES:
Charges will apply for cancellation of events 48 hours prior to booked events. Events cancelled 24 hours or less, there will be full fees chargeable. Please speak to us for further details.
Please refer to the FAQs if you would like to know more about MMT and how to engage massage services at your premises.
We operate a massage centre at our premises at 49 Toa Payoh Rise. The operating hours are from 9 am to 5 pm, Monday to Saturday (except Sundays and Public Holidays).
For any enquiries on in-house sessions at SAVH, please contact 6251 4334 from 8 am to 5 pm, Monday to Saturday.
For off-site engagements, please email mmt@savh.org.sg or contact 6251 4334 from Mondays to Fridays (except public holidays).