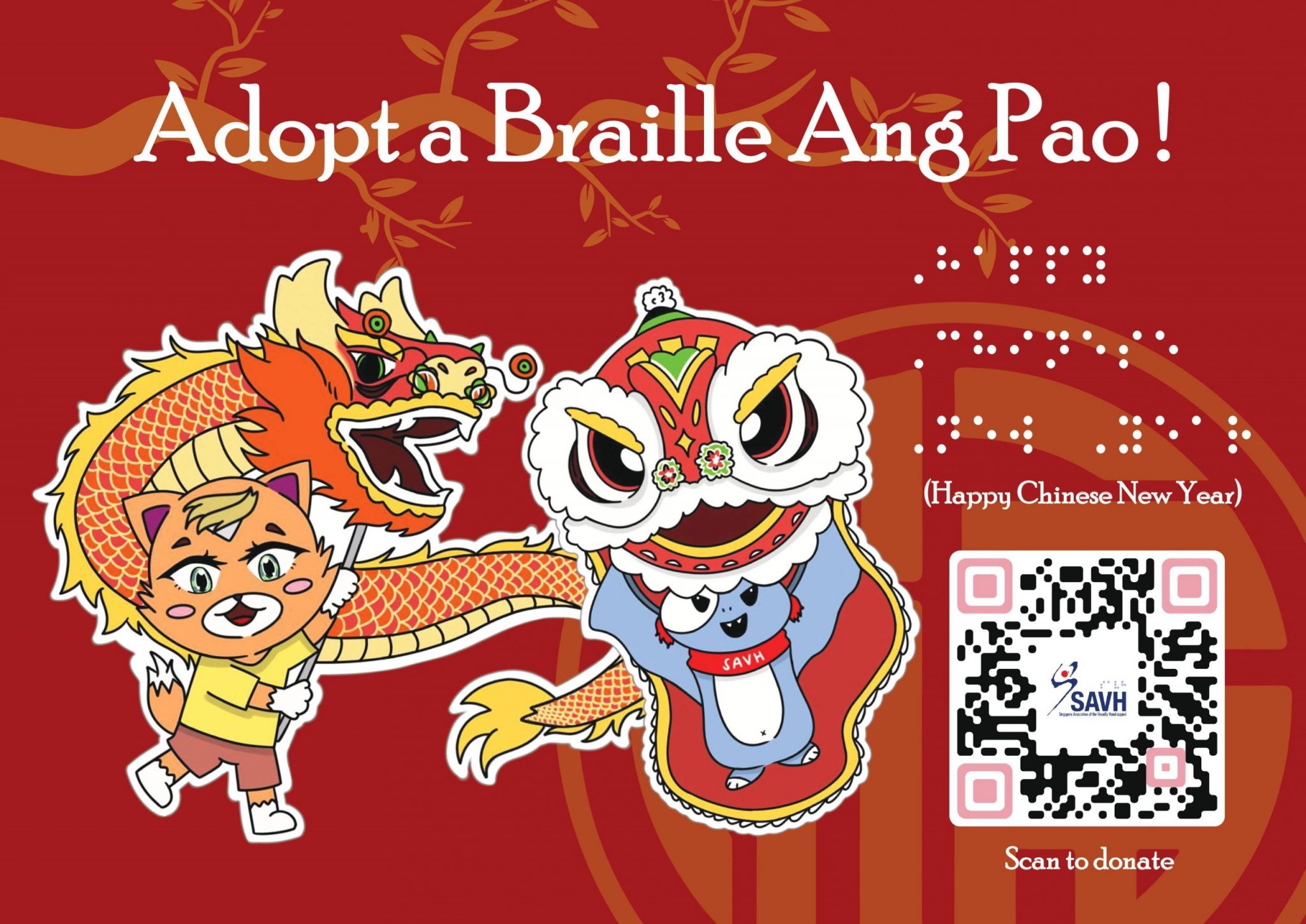 Greetings from Singapore Association of the Visually Handicapped (SAVH).
We are doing the SAVH Adopt a Braille Ang Pao 2023 the first time!
Come join us to make a difference in the life of the persons with Visually Impairment. Founded in 1951, Singapore Association of the Visually Handicapped (SAVH) is the national voluntary welfare organisation for the visually impaired. The purpose of SAVH Adopt a Braille Ang Pao 2023 is to fundraise for SAVH Casework and Counselling which aims to help visually handicapped individuals and their family members adjust to visual impairment and to help them cope with family or interpersonal problems.
SAVH also fundraise for the Information and Referral which offers information and advice to visually handicapped persons and their family members on the appropriate resources available in the community, such as special schools for early intervention and job placement services; to provide referral where necessary. These programmes are Financial Assistance and Home Ration Programme, Home Improvement Scheme, Financial help for minor home renovation and purchase of basic household equipment, Elderly Activity Group, Developmental Vision Programme.
Lastly, we fundraise for our Rehabilitation Services. The programmes are Orientation & Mobility Training, Activities of Daily Living Skills Training, Environmental/Home Modification, Sighted Guide Techniques, Caregiver Training and Day Care Center.
We hope your participation in helping us reach our target of $250,000!
Donation link (Giving.sg): Giving.sg
Help us to spread the word and encourage people to help us. There will be tax exemption given to all donations.
🎢 Date: 1st November 2022 to 31st January 2023
This is a special gift made by our beneficiaries who are Visually Handicapped from the SAVH Touch Art programme to thank you for the support!
Do follow us on our Facebook at I Love SAVH and Instagram at SAVH Official.Thank you so much!
A copy of our reply form is here for your kind support. please complete the Reply Form and email it to roger.tan@savh.org.sg.
Should you have queries, please do not hesitate to contact Mr Roger Tan at 6251 4331 x 401 or email it to roger.tan@savh.org.sg.