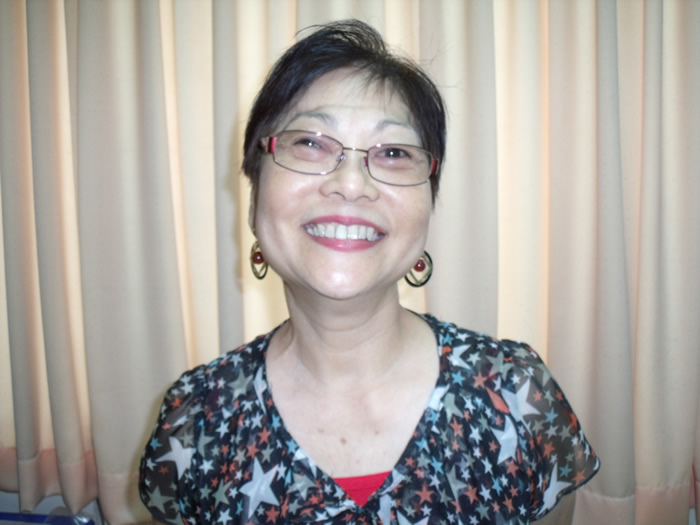 Ms Katy Lim has been a volunteer at SAVH since 1996. She has also roped in three other friends –Ms Susan Lee, Ms Elizabeth Wong and Ms Tan Wang Kheow – to help support the Touch Art Programme at SAVH.
Katy, who is visually handicapped, came to SAVH to learn Braille and was urged to start a handicraft based programme by her Braille teacher, Mr Leow Chee Tsai. She said: "At that time, some visually handicapped people were retrenched, in particular those who were working in factories". Determined to help them, she joined a group of volunteers to launch the programme formally.
She recounted her very first Touch Art project: "I was given two bags of recycled stamps by Mr Leow and that's how we started to make bookmarks and coasters". Indeed, these items are today still very much appreciated by well-wishers.
As the Touch Art group became bigger and the pool of people attending its session was stable, Katy's team began to market their handicraft works at promotional events and to companies through their network of friends.
Katy wants Touch Art to open its doors to as many visually handicapped people as possible. She and her group of volunteers hope to encourage these people to emerge from their homes and interact with one another. She said: "The sessions are very therapeutic." She has seen several of her visually handicapped friends gain in confidence after socializing with others.
She is also delighted to see that the steady increase in art work sales, both to individual and corporate customers, has helped some visually handicapped clients earn some money. Having witnessed the therapeutic and economic impact of the Touch Art programme, Katy and her volunteers are more motivated than ever to continue their voluntary service.
Katy says that both she and her group of her volunteers have also benefited from performing voluntary service. They have made new friends through the programme and the creative work they do keeps them mentally active.