How You Can Guide A Person With Vision Impairment
Top Tips on meeting a Vision Impaired Person (VIP)
When you meet a VIP, say "Hello" and introduce yourself in case he or she does not recognise you. Address him or her by name, if you know it. If not, touch lightly on the arm.
Always ask first whether assistance is needed in a friendly tone of voice: "May I be of help?" Respect the need for the VIP to be independent in areas where he or she does not need your help.
Speak clearly in a normal voice. Don't raise your volume unless you know that the VIP is also hearing impaired.
Don't talk down, or address your remarks to a companion as though the VIP were not there. Don't use pitying words like "Oh, poor thing, what a terrible thing to happen to you".
When giving directions, be clear and precise using terms like "left", "right", "the direction you are facing now". Avoid giving visual clues like "over there" and "blue building". Don't point.
Remember that gestures and facial expressions such as nodding and waving may not be seen.
If you are in a group, introduce the VIP to all people in your group so he or she is aware of who else is present.
Before you move away, say that you are about to leave. This saves the VIP the embarrassment of talking to an empty space.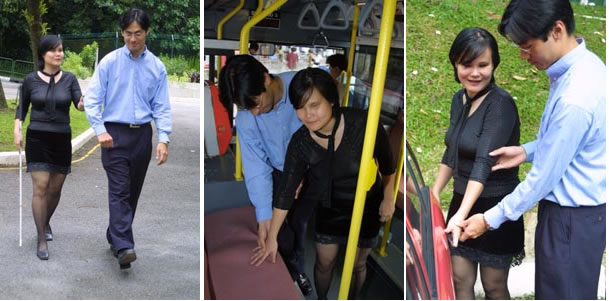 Do remember…
Areas where vision impaired people move about (eg corridors) should be kept clear of obstacles, particularly non-permanent items, like bags, vacuum cleaners, display stands.
Do not leave doors half-opened as they are dangerous.
If you are a visitor, don't move anything unless absolutely necessary and if remember to say where you put it.
YOU CAN MAKE A DIFFERENCE TO VISION IMPAIRED PEOPLE.
TREAT THEM WITH RESPECT AND DIGNITY.